Our
Policies / ACCREDITATIONS
With decades of experience we are passionate about delivering the highest level of service and safety to our clients and our engineers.
Click On Each Policy To View
We are committed to eliminating discrimination and encouraging diversity amongst the workforce.


The objective of TSS Facilities is to carry out instillations, service and maintenance works to very high standard.
TSS Facilities recognises that it has a responsibility to help protect the environment wherever it has an opportunity to do so.
It is important to us that you are aware of the following rights that you have in relation to our processing of that personal data.
The ISO 9000 is a set of standards that helps organisations ensure they meet the regulatory requirements related to a product or service.
ISO 14000 helps organisations minimise how their operations negatively affect the environment; comply with applicable laws and regulations.
CHAS was created by experienced health and safety professionals in 1997 to improve health and safety standards across the UK.​
Members get access to a wide range of procurement contracts and buyers can access a validated pool of high quality suppliers.
Gas Safe Register is the official gas registration body for the United Kingdom. By law all gas engineers must be on the Gas Safe Register.
NIC EIC is one of several organisations which regulates the training and work of electrical enterprises in the UK.
OFTEC is a leading 'not for profit' trade organisation for the heating and cooking industries in the UK and Republic of Ireland.
REFCOM is the UK's number one provider of F-Gas certification.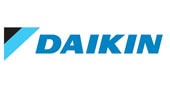 The Daikin D1 Partners maintain the highest standards of practice and performance and is renowned as a mark of quality in the industry.
Samsung partners are climate specialists specially trained to meet all the needs of businesses needing Air Conditioning.
Mitsubishi Electric's Partner Programme assures end users of a consistently high level of installation and after sales service that supports our systems.
LCA primary aim is to keep water systems safe and minimise the risk of cases of Legionnaires' disease caused by poorly maintained systems.
The F-Gas accreditation is for 'install, maintain or service refrigeration, air-conditioning and/or heat pump equipment containing F-Gas refrigerants'.
A Waste Carrier Licence applies to people & businesses who transport, dispose, buy or sell waste or arrange for others to do so on their behalf.